Gilbert and Sullivan's The Gondoliers
Featuring the JMU Opera Theater
Tue - Wed, Apr 12 - 13 @ 8 pm
CONCERT HALL
Gilbert and Sullivan's The Gondoliers
Featuring the JMU Opera Theater
Tue - Wed, Apr 12 - 13 @ 8 pm
CONCERT HALL
ARTWORK BY SUE OVERTON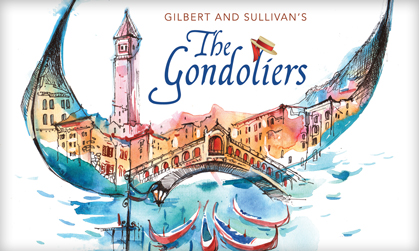 Sunny, funny, and with more tra-la-las than any other operetta in the Gilbert and Sullivan canon,
The Gondoliers
is sheer joy from start to finish.
In this flight of the satirical whimsy, Marco and Guiseppe, the handsome Palmieri brothers, lead a charmed life as

 

gondoliers

 

in Venice. They can take their pick of the pretty

 

contadine, but end up marrying Gianetta and Tessa. Confusion ensues when the brothers discover that one of them is the King of Barataria, who as a baby was entrusted into the care of a drunken gondolier who mixed up the prince with his own son. The two must travel to Barataria and rule the kingdom jointly until the truth can be determined. Sullivan's delightful music and Gilbert's delicious wit combine all the right ingredients for this stunning show!
Seating: Reserved
Patron Policies