About the Forbes Center
Experience the excitement of the Forbes Center for the Performing Arts at James Madison University, featuring five remarkable venues, each unique and acoustically designed to perfection. The Forbes Center will captivate your spirit with its soaring floor-to-ceiling glass lobbies, comfortable seating with ample legroom and upgraded audience amenities. Park for free just steps away from the entrance and be seated in minutes, ready to enjoy extraordinary dance, theatre and music performances by critically acclaimed guest artists and JMU's award-winning faculty members, students and alumni. Engage in pre- and post-show dialogues with visiting composers, choreographers, world-renowned guest artists and distinguished faculty and students.
The Forbes Center for the Performing Arts is the home to JMU's School of Theatre and Dance, and provides performance venues and support spaces for the School of Music. It also showcases work from the School of Art and Art History. The 175,000-square-foot facility is located on the west side of South Main Street directly across from Wilson Hall. It completes the historic "Quad" on the JMU campus.

The Quad has been considered the heart of campus during every era of Madison's history. Bordered by Alumnae, Sheldon, Spotswood and the Music Building to the north; Keezell, Wilson and Maury Halls to the east; Jackson, Harrison, Ashby and Wampler to the south, the Quad represents a distinctive and historic achievement. The National Register lists the Quad at JMU as a national treasure. The Forbes Center maintains the integrity of existing forms and elements found on the Quad. It upholds Wilson Hall as the Quad's prominent architectural and structural feature and offers a more accessible point of entry to this noble space.
The Forbes Center boldly affirms JMU's commitment to the arts as an essential component of the liberal arts curriculum. As the premier destination for arts in the Shenandoah Valley, the Forbes Center gives the university a unique opportunity to strengthen its relationships with local businesses, to enhance the cultural life of the community, and to support economic growth and social interaction in the region. Located within the Arts and Cultural District in the City of Harrisonburg, the facility is in a prime position to transform how university and community members view and engage in the arts.
The Forbes Center is comprised of the Dorothy Thomasson Estes Center for Theatre and Dance and the Shirley Hanson Roberts Center for Music Performance and houses five state-of-the-art performance venues: the Mainstage Theatre (450 seats), the Concert Hall (600 seats), the Recital Hall (196 seats), the Studio Theatre (200 seats) and the Earlynn J. Miller Dance Theatre (200 seats). It also includes classroom, rehearsal and office facilities. The Forbes Center became a reality thanks to the JMU administration and private donors—specifically Bruce and Lois J. Cardarella Forbes ('64), Richard D. and Shirley Hanson Roberts ('56), and Charles Edwin and Susan E. Estes.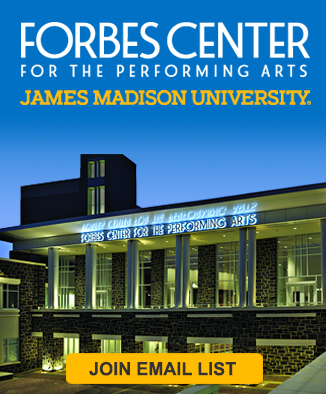 Sphinx Virtuosi Oct. 7
Mike Super Magic & Illusion Sept. 30
Pink Martini Featuring China Forbes
Oct. 26
All Things Equal - The Life and Times of Ruth Bader Ginsburg Nov. 1-2
2023 Circle of Excellence in the Arts Award Winner Heifetz International Music Institute