[an error occurred while processing this directive]
Dining Out in Downtown Harrisonburg Before or After a Performance at the Forbes Center
Make your outing to the Forbes Center an even more memorable experience with a visit to one of the many fine restaurants in downtown Harrisonburg.
The Forbes Center is proud to partner with members of the Downtown Harrisonburg Dining Alliance, and encourages our patrons to enjoy lunch, dinner, or dessert at one of their member restaurants. See why downtown Harrisonburg has earned the nickname "Restaurant Row."

Beyond is an Asian-inspired restaurant with full sushi bar and extensive tapas menu in an eclectic setting with loft and patio seating.

Bella Luna features handcrafted, farm-fresh food in a warm and inviting environment. Located in the historic Livery Building in downtown Harrisonburg, Bella Luna offers wood-fired pizzas, handmade pastas, fresh seasonal salads and sandwiches, and delectable desserts. The bar features a wide selection of local microbrews and hard ciders on tap, in addition to choice wines and artisan cocktails.



Billy Jack's Wing & Draft Shack serves chicken wings, chili cheese fries and housemade doughnuts. House sauces and daily specials are also available. The huge boneless wings, called Leghorns, will be sure to please. Billy Jack's beer focus is on craft beer. Growlers and beer flights are available. There are 12 rotating drafts to choose from, plus the area's largest can selection. Come sit in front of the open windows and take in the downtown scenery.

BoBoKo serve traditional Indonesian food using fresh Southeast Asian spices and ingredients such as ginger, galangal, lemongrass, coconut milk, nutmeg, lime leaves and chili pepper to create unique, warm, rich flavors. The menu includes some Indonesian fusion options, blending Indonesian and Western ingredients.
Capital Ale House boasts two dining areas, banquet space, darts and billiards, and a stunning rooftop deck. They feature more than 100 fine ales and lager beers from Virginia and around the world on draught and over 70 in bottles, plus Virginia wines, premium cocktails and exceptional regional fare each and every day. Come enjoy your favorite games on five big screen HD TVs. 

Clementine is a locally owned, independent restaurant specializing in quality food, live music, specialty cocktails, local art and community events. Clementine hosts local and regional live music three times a week, over 100 beers, and a creative menu based on freshly prepared foods.

Cuban Burger was awarded one of the Top 12 Burgers in Virginia. This Cuban-American cuisine is a food lovers paradise. The menu offers a variety of options: fritas, tapas, Cuban sandwiches - and a full bar, which includes handcrafted Cuban cocktails. The decor and atmosphere offers patrons a way to step into the past and experience Hemmingway's Havana.



Specializing in scratch-made American cuisine, The Golden Pony offers high quality pizza, burgers, salads, subs, and an inspired children's menu. They have pinball machines, an art gallery, an outdoor patio, two full bars, as well as a professional sound stage for live music Sunday-Thursday and DJs on the weekends.

The childhood dream of two best friends, Aaron Ludwig and Mike Sabin, Jack Brown's has over 100 beers in stock and serves a 100% Natural American Kobe Beef Hamburger. There are also unique daily specials featuring everything from peanut butter to mac and cheese.

Fresh ingredients and one talented chef create the magic that is Jimmy's southern kitchen. Prepare yourself for a special blend of soulful music, modern southern cuisine, and premium whiskeys. Relax and let yourself be taken back to a time and place where life was slow and sweet, and troubles were checked at the door.

Joshua Wilton House features creative, contemporary cuisine with knowledgeable and friendly service. Five dining rooms, a lounge, porch and patio gives patrons many ways to enjoy an evening out. An award-winning wine list and a focus on utilizing fresh, locally sourced ingredients have made them a leader in downtown dining for 22 years.

Everybody knows everybody at the L&S Diner, and everybody knows the diner's famous, pan-fried chicken. A newer breakfast favorite is the Garbage Omelet featuring three eggs, cheese, a variety of meats, onions, green peppers, tomatoes and potatoes. No one ever leaves hungry from the L&S Diner. Open for lunch only.

Enjoy dinner or drinks with a fresh, innovative twist. They strive to support local farmers and growers by providing freshly prepared dishes utilizing local fruits, vegetables and ingredients. Enjoy handcrafted cocktails, small-batch brewery beers, and bourbons and wines. They have 18 beers on tap and live music in the LOCAL Bar, plus covered outdoor patio seating and free valet parking.

With a modern, southwest-style wall decor and a gorgeous rooftop deck, Magnolia's has an impressive menu from chorizo mac 'n' cheese to salads and burritos, to over 50 different tequila choices. There is a dish for anyone that loves good Mexican cuisine, and tacos are their specialty with over 10 different types for patrons to enjoy.

Magpie is a full-service breakfast and lunch restaurant serving a modern diner-inspired menu. We serve coffee brewed from beans roasted right next door at Chestnut Ridge Coffee Roasters. We honor the seasons in everything from our sandwiches to our cocktails. Our in-house bakery turns out fresh breads and pastries daily. We are a true community corner and all are welcome at our table!


Montpelier Restaurant and Bar is a newly opened spot in Harrisonburg, VA, serving Southern-inspired regional fare crafted with locally sourced ingredients. Enjoy breakfast, lunch and dinner in a place that uses the best ingredients and provides a great atmosphere.


This popular Italian-themed restaurant franchise offers an intimate dining setting complimented by a wide array of Italian dishes.

Get your taste of the Outback with this Australian-themed steakhouse. Sample one of any number of inspired dishes from this international franchise that has brought the barbie all around the world!

The Little Grill is a breakfast and lunch restaurant that has been in this location, since 1940. You can also enjoy their signature Mexi-night Tuesdays. They have multiple vegetarian options for any and all to enjoy!


Head to this rooftop tavern to sip creative cocktails as you admire the peaks of the Blue Ridge Mountains in the distance. The tavern offers thoughtfully-sourced, regionally inspired small plates, and premium alcoholic beverages.

Rocktown Kitchen is an intimate, farm-to-table restaurant serving elevated American cuisine in a casual, fine dining environment. They also have an extensive wine list, featuring unique and exceptional wines from around the world, and local craft beers. Rocktown Kitchen's goal is to create an exceptional dining experience while focusing on local artisan producers in the region.



Ruby's Arcade is a sprawling hangout with duckpin bowling, pool tables, dart lanes, foosball and more! With a wood-fired pizza oven, wood-fired meat smoker, and full service bar, Ruby's is the perfect spot for an afternoon with the kids or a late night with friends.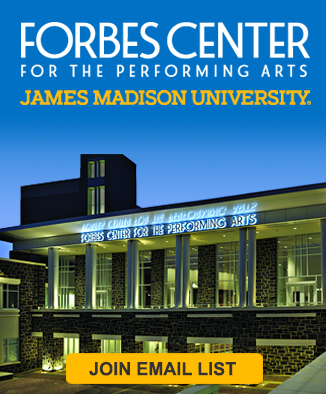 The Forbes Center for the Performing Arts to Host Holiday Food Drive November 6 through December 15 Benefiting the Blue Ridge Area Food Bank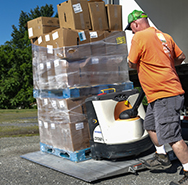 View the 2023-2024 Masterpiece Season Brochure on Issuu.com
Trey McLaughlin and  The Sounds of Zamar Nov. 16
Karla Bonoff and Livingston Taylor Together in Concert Dec. 13
International Guitar Night Feb. 27