Everybody
By Branden Jacobs-Jenkins
Tue - Sat, Sep 24 - 28 @ 8 pm
Sat, Sep 28 @ 2 pm
MAINSTAGE THEATRE
Everybody
By Branden Jacobs-Jenkins
Tue - Sat, Sep 24 - 28 @ 8 pm
Sat, Sep 28 @ 2 pm
MAINSTAGE THEATRE
ARTWORK BY RICH HILLIARD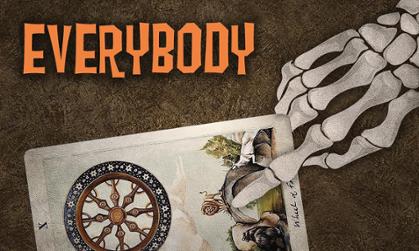 "... fills the heart in a new and unexpected way."
— The New Yorker
What happens when Death comes knocking? Everybody protests, so is given the option of taking along Somebody, including Friendship, Stuff, Strength, and Beauty. Will any of these characters, selected from amongst the cast by lottery at each performance, decide to accompany Everybody in death? A 2018 Pulitzer Prize Finalist for Drama, Everybody is a modern riff on the 15th-century play Everyman about Christian salvation and how to achieve it. Branden Jacobs-Jenkins is a 2016 MacArthur Fellow and "one of this country's most original and illuminating writers." (The New York Times) Features students from JMU's School of Theatre and Dance.

Adult content and adult language.
EVERYBODY is presented by special arrangement with Dramatists Play Service, Inc., New York.
Seating: Reserved
Patron Policies