Twelfth Night
A musical adaptation of William Shakespeare's Twelfth Night
Conceived by Kwame Kwei-Armah & Shaina Taub
Music and Lyrics by Shaina Taub
Wed - Fri, Oct 9 - 11 @ 8 pm
SOLD OUT
Sat, Oct 12 @ 2 pm
SOLD OUT
Sat, Oct 12 @ 8 pm
SOLD OUT
Sun, Oct 13 @ 2 pm
SOLD OUT
STUDIO THEATRE
Twelfth Night
A musical adaptation of William Shakespeare's Twelfth Night
Conceived by Kwame Kwei-Armah & Shaina Taub
Music and Lyrics by Shaina Taub
Wed - Fri, Oct 9 - 11 @ 8 pm
SOLD OUT
Sat, Oct 12 @ 2 pm
SOLD OUT
Sat, Oct 12 @ 8 pm
SOLD OUT
Sun, Oct 13 @ 2 pm
SOLD OUT
STUDIO THEATRE
ARTWORK BY SUE OVERTON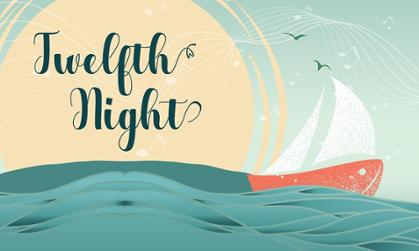 "... an infectious good time."
— Variety
Seating: General Admission
All performances of this production are sold out. Named one of the best theatrical productions of 2018 by Time, The Hollywood Reporter and The Washington Post, Twelfth Night is a rousing contemporary musical adaptation of Shakespeare's classic romantic comedy about mistaken identity and self-discovery. Featuring an original jazz-funk score, Twelfth Night tells the story of a young heroine who washes up on the shores of Illyria, disguises herself as a man, is sent to court a countess, and falls hard for a Duke. As Viola navigates this strange and wonderful new land, she finds her true self—and true love—in the process. Features students from JMU's School of Theatre and Dance and School of Music.
Seating: General Admission
Patron Policies