The 39th Annual JMU Contemporary Music Festival
Featuring the music of Bright Sheng
Mon - Wed, Oct 21 - 23 @ 8 pm
CONCERT HALL
The 39th Annual JMU Contemporary Music Festival
Featuring the music of Bright Sheng
Mon - Wed, Oct 21 - 23 @ 8 pm
CONCERT HALL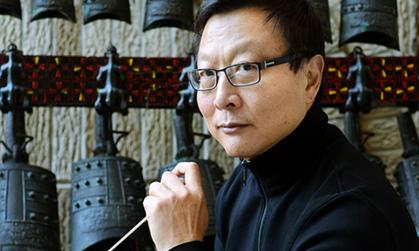 "a musical genius"
— Calgary Herald
This year's festival features the music of Bright Sheng, one of today's foremost composers. A MacArthur Fellow, Sheng combines "contemporary Western techniques with traditional Chinese music" (The New York Times) to create stage, orchestral, chamber and vocal works that are widely commissioned—including by The White House in 1999—and regularly performed throughout North America, Europe and Asia. In 2008, Sheng was selected to compose music for the Summer Olympics opening ceremony in Beijing. Sheng also maintains an active performing career as a conductor and concert pianist. He studied composition and conducting with Leonard Bernstein, and currently serves as the Leonard Bernstein Distinguished University Professor of Music at the University of Michigan. JMU faculty, ensembles and students will present Sheng's music and other contemporary works in three main concerts during the festival.
Concert I: Flow of Life - Monday, October 21 @ 8 pm
This opening concert celebrates the music of guest artists Bright Sheng and Pius Cheung alongside the winners of the CMF Chamber Music Competition and New Music for Choir Competition. The program featuring The Madison Singers, JMU Percussion Ensemble and JMU faculty members Ian Zook and Carl Donakowski promises a venture into new compositions, virtuosic performances and audio-visual mixed media.

Concert II: Clearwater - Tuesday, October 22 @ 8 pm
This concert titled Clearwater explores unique interactions of light and sound through Krzysztof Wolek's Shadowings for viola and live electronics, Bright Sheng's Clearwater Rhapsody for erhu and piano trio, and Lowell Liebermann's Ice Music for chamber ensemble and multimedia. The evening also features performer-composers from JMU and guest erhu virtuoso Andy Lin.

Concert III: Deep Red - Wednesday, October 23 @ 8 pm
This concert features Bright Sheng's marimba concerto Deep Red performed by marimba virtuoso Pius Cheung with a chamber orchestra of JMU faculty and students, as well as Ian Clarke's Within for flute choir. The second half of the program features the JMU Wind Symphony performing Sheng's Shanghai Overture and Michael Colgrass' Urban Requiem for saxophone quartet and wind ensemble.
Seating: Reserved
Patron Policies