Wilde Creatures
Based on fairy tales by Oscar Wilde
Produced by Tall Stories from London, England
Tue, Jan 21 @ 7 pm
MAINSTAGE THEATRE
Wilde Creatures
Based on fairy tales by Oscar Wilde
Produced by Tall Stories from London, England
Tue, Jan 21 @ 7 pm
MAINSTAGE THEATRE
ARTWORK COURTESY OF WWW.TALLSTORIES.ORG.UK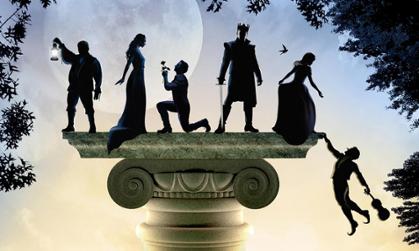 "Not to be missed. Joyful, beautifully crafted... spectacular."
— Australian Stage
A captivating crew of storytelling musicians bring Oscar Wilde's classic fairy tales to life in Tall Stories' new show, Wilde Creatures, direct from London's West End. In the town square of a cold and lonely village stands an empty platform where the statue of the Happy Prince once stood. The town's pompous mayor, a lovesick student, and a petulant princess all vie to become the new town statue. Which of the townsfolk is virtuous enough to be immortalized in stone? As an audience member, you get to choose in this fantastical journey through palaces, forests and beyond. Founded in 1997, England's Tall Stories is internationally recognized for its exciting blend of storytelling, original music, and laughs. www.tallstories.org.uk

Recommended for ages 5 to 105.
Seating: Reserved
Patron Policies