The Siberian State Symphony Orchestra
Direct from Krasnoyarsk, Russia
Vladimir Lande, music director and chief conductor
Sat, Feb 8 @ 8 pm
CANCELLED
CONCERT HALL
The Siberian State Symphony Orchestra
Direct from Krasnoyarsk, Russia
Vladimir Lande, music director and chief conductor
Sat, Feb 8 @ 8 pm
CANCELLED
CONCERT HALL
PHOTO BY EXPLIK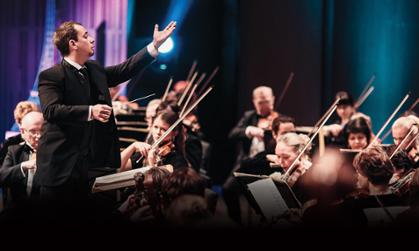 "... a splendid ensemble."
— MusicWeb International
This performance has been cancelled. The Siberian State Symphony Orchestra has been unable to secure work authorization through the United States Department of Homeland Security and the United States Citizenship and Immigration Services in order to travel to the United States to perform. The Forbes Center Box Office will be in touch with ticket buyers regarding refunds. For more information, call the box office at (540) 568-7000.
The Siberian State Symphony Orchestra, who has earned a reputation as one of the best orchestras in Russia, takes to the road for an international tour featuring a stop at the Forbes Center! Conductor Vladimir Lande, winner of the prestigious Clef D'Or Global Music Award, will lead the Orchestra and a world-class piano soloist in a dazzling concert of Russian favorites including Rachmaninoff's Piano Concerto No. 3 in D Minor, Op. 30, considered by many to be one of the most technically challenging piano concertos in the classical repertoire. The program also includes Tchaikovsky's ravishing Symphony No. 5 in E Minor, Op. 64 and Shostakovich's The Bolt, Suite from the Ballet, Op. 27a - Tango. Don't miss this evening of masterful musicianship!
Seating: Reserved
Patron Policies