Carl Donakowski, cello
Featuring Lori Piitz, piano, and Adam Larrabee, guitar
FORBES CENTER @ HOME
Fri, Feb 19 @ 5 pm
STREAMED FROM THE RECITAL HALL
Carl Donakowski, cello
Featuring Lori Piitz, piano, and Adam Larrabee, guitar
FORBES CENTER @ HOME
Fri, Feb 19 @ 5 pm
STREAMED FROM THE RECITAL HALL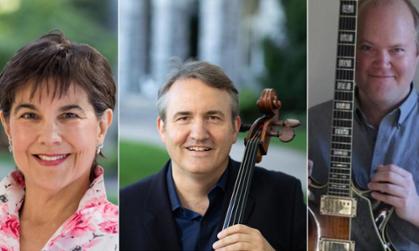 Carl Donakowski joins forces with fellow JMU faculty members Lori Piitz and Adam Larrabee to perform a program featuring Tsintsadze's Five Pieces on Folk Themes and music by Beethoven, Piazzolla, Gnattali and Cassadó. This event is free. Donations are encouraged and will support student scholarships in the College of Visual and Performing Arts. Event livestreamed on February 6, 2021. Available for on-demand viewing through March 1, 2021.  Program

Carl Donakowski was a prizewinner in the 1989 Mendelssohn Competition in Berlin. His recital performances have aired on WQRS Detroit, WQXR New York and Sudwestfunk Radio Baden-Baden. As a chamber musician, he has been a member of the North Shore Pro Musica, the Fontana Chamber Music Society and the Orpheus Piano Trio. As a member of the West End Chamber Ensemble, he participated in the National Endowment for the Arts/Chamber Music America Rural Residency Chamber Music Initiative. He previously served on the faculties of Central Michigan University School of Music and Alma College. During the summer, he teaches and performs at the Bay View Music Festival (Michigan) as a member of the Westbrook String Quartet.
Donakowski holds a B.M. from Indiana University, a D.M.A. from the State University of New York at Stony Brook, and an Artist Diploma from the Musikhochschule Freiburg. His major teachers were Timothy Eddy, Janos Starker, Gary Hoffman and Christoph Henkel.
Lori Piitz is a versatile artist whose career includes such diverse opportunities as playing chamber music at Lincoln Center in New York City and performing in a German opera house dressed as a baby chick! Since joining the JMU faculty in 2002, she has performed in summer festivals including the EMU Bach Festival, and the Richmond and Staunton Music Festivals. She received her doctorate from Indiana University where she studied with Menahem Pressler. 
Adam Larrabee is a seasoned jazz guitarist who can be heard on Bruce Hornsby's recording Spirit Trail. He taught at New England Conservatory and performed in the Boston area for nearly 10 years before moving to Virginia, but is perhaps best known in the Mid-Atlantic region and beyond for his banjo work with the nationally-recognized bluegrass band Love Canon. A prolific, multi-genre composer, he recently published Book One of his Twenty-Four Preludes for Banjo.
Seating: Online
Patron Policies