Joe Fonda Quartet
Featuring Joe Fonda (composer, bassist), Harvey Sorgen (drums), Michael Rabinowitz (bassoon), and Jeff Lederer (clarinet, saxophone)
Tue, Nov 16 @ 7 pm
RECITAL HALL
Joe Fonda Quartet
Featuring Joe Fonda (composer, bassist), Harvey Sorgen (drums), Michael Rabinowitz (bassoon), and Jeff Lederer (clarinet, saxophone)
Tue, Nov 16 @ 7 pm
RECITAL HALL
PHOTOS COURTESY OF JOE FONDA QUARTET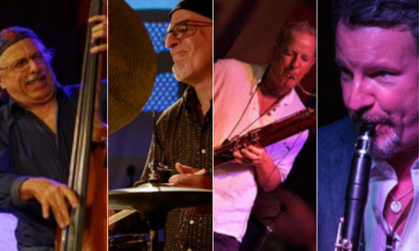 The Joe Fonda Quartet is a powerful group of musicians who have collectively been active within the New York Jazz community for over 40 years. The combination of bassoon and saxophone is a unique and compelling sound. These two instruments, along with a powerful rhythm section, have not been utilized often in the world of jazz. Fonda's composing and arranging for this quartet is powerful, elegant and complete. It is a quartet for today, tomorrow and years to come.
Joe Fonda is a composer, bassist, recording artist, interdisciplinary performer, producer and educator. An accomplished international jazz artist, Fonda has performed with his own ensembles throughout the United States, Canada, Europe and Asia. He has recorded and toured extensively with the Fonda-Stevens Group, Conference Call, The Fab Trio, The Nu Band, and Bottoms Out. Recent projects include From the Source and The Off-Road Quartet.  www.joefonda.com

Harvey Sorgen is a drummer, percussionist, educator and composer. He has recorded or performed with artists including John D'earth, Bruce Hornsby, Carlos Santana, Paul Simon, and many more. Sorgen gives workshops and master classes around the world. He is the recipient of New York State "Meet the Composer" and New York State Council on the Arts grants, and has been featured in Modern Drummer, DRUM!, DownBeat, All About Jazz, Jazz Podium (Germany), and Jazz'halo (Belgium).  www.harveysorgen.com

Michael Rabinowitz has been on the cutting edge as a versatile bassoonist for over 30 years. His broad musical experience makes him as comfortable with Bach and Mozart as he is with Charlie Parker, John Coltrane, and Ornette Coleman. Rabinowitz has recorded with Ira Sullivan, Red Rodney, Wynton Marsalis, John Hicks, Dave Douglas, Chris Potter, and Joe Lovano. He is a Buffet Group USA Recording and Performing Artist.  www.jazzbassoonist.com

Jeff Lederer is a saxophonist/clarinetist/composer who has been included in the DownBeat Critics Poll and Readers Poll each year since 2014. He leads ensembles including the Shakers n' Bakers and Sunwatcher Quartet, and is the founder and director of the Visionary Youth Orchestra. Lederer was named as a "Musician to Watch in 2017" by Jazzwise magazine in London. He serves as director of jazz studies and professor of jazz saxophone at Long Island University.  www.littleimusic.com
This tour/performance/show/event is made possible with the support of Jazz Road, a national initiative of South Arts, which is funded by the Doris Duke Charitable Foundation with additional support from The Andrew W. Mellon Foundation.
Seating: Reserved
Patron Policies