[an error occurred while processing this directive]
Cuarteto Latinoamericano
Mexico: A Musical Journey
Sat, Oct 8 @ 8 pm
CONCERT HALL
Cuarteto Latinoamericano
Mexico: A Musical Journey
Sat, Oct 8 @ 8 pm
CONCERT HALL
PHOTO BY SERGIO YAZBEK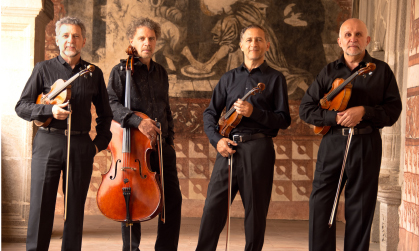 "The playing was immaculate... with a sound... of burnished gold"
— Palm Beach Arts
With "vital, fresh, imaginative music and sensitive, brilliant performances," (The Washington Post) Cuarteto Latinoamericano is one of the world's foremost string quartets, and for 40 years, the leading proponent of Latin American music for the genre. The Cuarteto has toured five continents and won numerous awards, including two Latin Grammys, with three brothers—violinists Arón Bitrán and Saul Bitrán plus cellist Álvaro Bitrán—as well as violist Javier Montiel.

Mexico: A Musical Journey will explore the thematic intersections between music and art in Mexican history from the Aztecs to the modern day, with pieces by composers like Chávez, Ponce and Revueltas. Highlighting art—from the expansive murals of Rivera and Orozco to the surrealist paintings of Kahlo—this multimedia performance features commentary by Benjamín Juárez, professor of fine arts at Boston University and former general director of the CENART, Mexico's national arts center. Don't miss this entertaining evening!
Seating: Reserved
Patron Policies