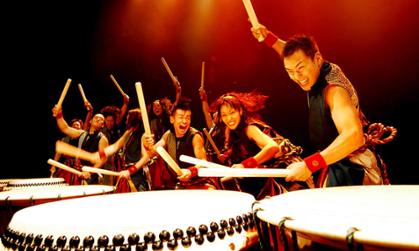 The Forbes Center for the Performing Arts at James Madison University is excited to announce its 2019-2020 10th Anniversary Season. The season includes 36 Masterpiece events and features performances/work by Grammy and Emmy-nominated guest artists, MacArthur Fellows, other world-renowned performers, ensembles and orchestras, and award-winning JMU theatre, dance and music students and faculty. The 2019-2020 Masterpiece Season sponsor is Kathy Moran Wealth Group.
Topping the list are performances by Forbes Center "Encore" artists including Yamato - The Drummers of Japan in Jhonetsu-Passion, a thrilling interpretation of the ancient Japanese tradition of taiko drumming; "Miloš Karadaglić, "the hottest guitarist in the world," (Sunday Times) with a world-class musical quintet in Voice of the Guitar; and Taj Express - The Bollywood Musical Revue, an electrifying fusion of film, dance and music.
Other Encore performances include Whose Live Anyway?, a show of hilarious improvised comedy and song featuring the cast of the Emmy-nominated television show Whose Line Is It Anyway?; the Seamus Egan Project, featuring legendary Irish musician Seamus Egan and musical guests; American Spiritual Ensemble, "the most heavenly divine sound of voices," (YourObserver.com) in a performance that also features JMU's Madison Singers; the Brubeck Brothers Quartet in a centennial celebration of Dave Brubeck's birth; Harlem 100, a multimedia extravaganza celebrating the 100th anniversary of the Harlem Renaissance, featuring jazz standout Michael Mwenso and his big band backup, The Shakes; Aquila Theatre's evocative and timely touring production of 1984; the acclaimed quintet Ranky Tanky from South Carolina, who will bring to life the soulful songs of the Gullah culture; multi-ethic Latin pop songstress Gina Chavez; Bel Canto Trio, featuring three of opera's most critically-acclaimed rising stars; and the Amernet String Quartet, "one of America's finest ensembles," (The Cincinnati Enquirer) with pianist Heather Coltman and double bassist Sam Suggs.
Rounding out the list of Encore shows are The Siberian State Symphony Orchestra, "a splendid ensemble" (MusicWeb International) who will perform a dazzling concert of Russian favorites; the powerhouse all-male Argentinian dance company Che Malambo in a percussive dance and music spectacle celebrating the South American cowboy tradition of the gaucho; Cory Band, the world's top brass band ensemble hailing from South Wales; the Amsterdam-based Calefax Reed Quintet, acclaimed for its contemporary yet timeless interpretations of classical music; Swiss-based theatre troupe MUMMENSCHANZ in you & me, a visually-stunning spectacle featuring life-size puppets, masked characters, and awe-inspiring optical illusions; Wilde Creatures, Oscar Wilde's classic fairy tales brought to life by England's Tall Stories; Bay Area Children's Theatre in Llama Llama – Live!, a hilarious new musical based on the beloved book series by Anna Dewdney; and A cappella Live!, a vocal celebration conceived and arranged by Deke Sharon featuring beatbox sensation Blake Lewis and a cappella groups Committed, The Filharmonic, and Women of the World.
MUMMENSCHANZ, Wilde Creatures, Llama Llama – Live! and A cappella Live! and are new "Forbes Family Fun" events this season; Community Collage Concert, which features artists and ensembles from the Shenandoah Valley and benefits Any Given Child Shenandoah Valley, returns to the lineup. Forbes Family Fun events are geared toward young audiences and their families, and this year's series is sponsored by Shenandoah Valley Regional Airport and United (Operated by SkyWest Airlines). MUMMENSCHANZ, Wilde Creatures, and Llama Llama – Live! will also give matinee performances for students in Rockingham County Public Schools and Harrisonburg City Public Schools.
The Masterpiece Season opens September 6-7 with DanceWorks Chicago headlining the New Dance Festival. The contemporary dance company will perform a diverse repertoire with integrity, passion and excellence. The festival also features new works by dance faculty members Ryan Corriston and Shane O'Hara. In addition, JMU dance majors will perform with DanceWorks Chicago. Other dance events include Dancescapes featuring JMU's Virginia Repertory Dance Company and New Voices in Dance featuring JMU's Contemporary Dance Ensemble.
The three-day Contemporary Music Festival features the music of Bright Sheng, a MacArthur Fellow and "musical genius" (Calgary Herald) who studied with Leonard Bernstein. Seventeen JMU School of Music faculty and alumna join forces to perform an arrangement for chamber ensemble of Das Lied von der Erde (Song of the Earth), "Mahler's greatest symphony" (Leonard Bernstein). Holidayfest and the JMU Symphony Honors Concert are back by popular demand.
The JMU Opera Theater will perform Faust, Charles Gounod's captivating tragedy, as well as Gilbert and Sullivan's hilarious and satirical operetta Iolanthe in the spring.
The School of Theatre and Dance presents Brenden Jacobs-Jenkins' Everybody, a 2018 Pulitzer Prize Finalist for Drama; Twelfth Night, a contemporary musical adaptation of Shakespeare's classic romantic comedy; Caryl Churchill's Vinegar Tom, a masterpiece of feminist theatre; the world premiere of Walls, a drama conceived by JMU alum Paul Holland and developed by JMU playwriting professor Ingrid De Sanctis; the 2014 Broadway musical revival Side Show; and The Hungry Woman: A Mexican Medea, an apocalyptic play by feminist author and Chicano playwright Cherríe Moraga.
Tickets are available at www.jmuforbescenter.com or at the Forbes Center Box Office in person or by phone at (540) 568-7000.